Institute of Astronomy and Astrophysics (IAA)


Université libre de Bruxelles (ULB)


In memory of Dimitri Pourbaix

We are very saddned to announce that our colleague and friend Dimitri Pourbaix passed away on November 14. This is a great loss and for those of you who would like to express their sympathy, they can write a few words on this page : remember

In recognition of Dimitri Pourbaix's astronomical achievements, an asteroid has been named after him : (374715) Dimpourbaix = 2006 SH20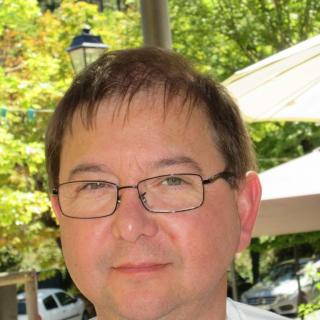 Dimitri Pourbaix, who was the newly elected Vice-President of IAU Commission G1 on Binary and Multiple Star Systems, passed away on 14 November 2021 after complications from cardiac surgery last April.
He was born in Charleroi, Belgium on 22 May 1969 and was working as Senior Research associate of the National Fund for Scientific Research (FNRS) at the Université Libre de Bruxelles (Belgium).
Since his Ph.D. in astronomy from the Université de Liège in 1998 he was a specialist in the determination of the orbital parameters of binaries. He was the manager of the 9th catalogue of orbits of spectroscopic binaries for the former IAU Commission 26. With the advent of the Hipparcos Catalogue, he also made a speciality of reprocessing the data to improve our knowledge of some specific types of star (binaries, C stars, Oxygen-rich Mira Variables, substellar companions, …). All these works were the subject of the agrégation thesis he defended in 2007. Beside this, he was also fond of scientific computing and optimisation problems.
Since 2006, he led the Belgian participation in the Gaia data processing consortium and was mostly dedicated to the management of the Coordination Unit devoted to object processing. He will never see the publication of the long-awaited catalogue of binary stars, to which he has contributed so much, due for GAIA DR3 next year.
Alongside his scientific activities, he also enjoyed public outreach, sharing his passion with lectures ('Cours Public d'Astronomie') and observing nights.
Dimitri had a rich personality and was a connoisseur of the good things in life. His colleagues remember how their conversations with him could be energetic and tough while he actually was generous, benevolent and kind. He was a dedicated husband and father of a young son.
Past affiliations within the IAU:
- Vice-President of IAU Commission G1 on Binary Stars (2021)
- Past Steering Committee Member of Division A Fundamental Astronomy (2012-2015)
- Past President of the former IAU Commission 30 (Radial Velocities) (2012-2015).
- Past Chair of Commission 26 WG Catalog of Orbital Elements of Spectroscopic Binary Systems (until 2015)
- Past Organizing Committee Member of Commission 26 Double & Multiple Stars (2006-2012)
November 2021: We are opening a postdoc position on

Gaia data processing of resolved binaries.

All details can be found on this job announcement
October 2021: We are opening a long-term post-doctoral position in

stellar spectroscopy of multiple systems

. All details can be found on this job announcement
Our research interests cover various fields, among which nucleosynthesis, nuclear astrophysics, stellar evolution and chemical composition, binary stars, neutron stars...
More details on our activities can be found here
On the benefits of astronomical research (at the European Southern Observatory) on society
For ULB students


[08/06/2021] Ana Escorza receives the Spanish Society of Astronomy Thesis Award 2021


The Spanish Society of Astronomy (SEA) has just announced the winners of the Thesis Awards 2021, which recognize the doctoral theses with the greatest present and future impact, both in astronomy research and in the area of instrumentation, computing and technological development in astronomy. The SEA Thesis 2021 Prize in Astronomy and Astrophysics has been awarded to Ana Escorza, for the thesis "Barium stars as tracers of binary evolution in the Gaia era", carried out at the KU Leuven and the Université Libre de Brussels (ULB) and supervised by Prof. Hans Van Winckel and Dr. Lionel Siess. The awards ceremony will be held at the opening ceremony of the next Scientific Meeting of the Spanish Society of Astronomy, in La Laguna in September 2022. Ana Escorza graduated in Physics from the University of Zaragoza, studying for a year at the University of Southampton. She completed the Master in Astronomy and Astrophysics at the KU Leuven and from 2016 to 2020 she has been a PhD student of the Research Foundations Flanders (FWO). Her doctoral thesis studies a family of stars with chemical peculiarities called "barium stars". Using broadband photometry, high-resolution spectroscopy, results from the Gaia mission and state-of -the-art evolution models, she has been able to determine the properties of these stars with unprecedented accuracy. She also has built the largest catalog of barium dwarf systems published to date. She currently has a postdoctoral position as a Fellow of the European Southern Observatory (ESO) in Santiago de Chile, where she is an instrument fellow for the UVES and ESPRESSO spectrographs, mounted on the Very Large Telescope at ESO's Cerro Paranal Observatory.


A report in Nature Astronomy by Chiao May of our A&A Letter (Kravchenko et al.) on the possible cause of the dimming of Betelgeuse: preprint here


ULB astronomers contribute to ESA's Gaia astrometric mission, which released data for 1.4 billion stars today.


Astrophysicist working at ULB, formerly research associate of the Fund for Scientific Research (FRS-FNRS), Sophie Van Eck contributed to the imaging of pi Gruis, a giant star located 530 pc away in the southern constellation Gruis, using European Southern Observatory Very Large Telescope Interferometer.


[22/12/2017] Giant Bubbles on Red Giant Star's Surface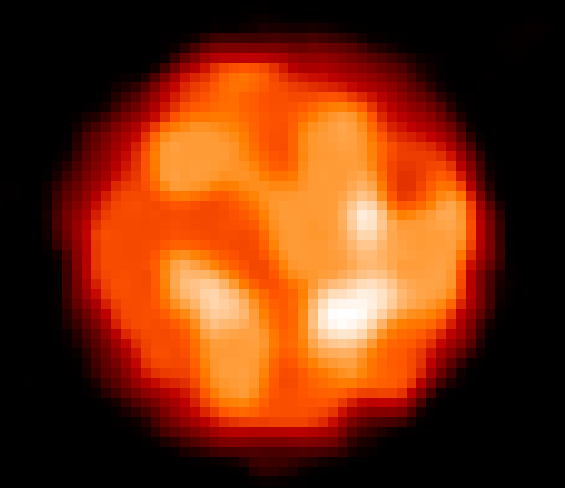 Astronomers using ESO's Very Large Telescope have for the first time directly observed granulation patterns on the surface of a star outside the Solar System — the ageing red giant π1 Gruis. This remarkable new image from the PIONIER instrument reveals the convective cells that make up the surface of this huge star, which has 350 times the diameter of the Sun. Each cell covers more than a quarter of the star's diameter and measures about 120 million kilometres across. These new results are being published this week in the journal Nature.
Located 530 light-years from Earth in the constellation of Grus (The Crane), π1 Gruis is a cool red giant. It has about the same mass as our Sun, but is 350 times larger and several thousand times as bright. Our Sun will swell to become a similar red giant star in about five billion years.
An international team of astronomers led by Claudia Paladini (ESO) used the PIONIER instrument on ESO's Very Large Telescope to observe π1 Gruis in greater detail than ever before. They found that the surface of this red giant has just a few convective cells, or granules, that are each about 120 million kilometres across — about a quarter of the star's diameter. Just one of these granules would extend from the Sun to beyond Venus. The surfaces — known as photospheres — of many giant stars are obscured by dust, which hinders observations. However, in the case of π1 Gruis, although dust is present far from the star, it does not have a significant effect on the new infrared observations.
When π1 Gruis ran out of hydrogen to burn long ago, this ancient star ceased the first stage of its nuclear fusion programme. It shrank as it ran out of energy, causing it to heat up to over 100 million degrees. These extreme temperatures fueled the star's next phase as it began to fuse helium into heavier atoms such as carbon and oxygen. This intensely hot core then expelled the star's outer layers, causing it to balloon to hundreds of times larger than its original size. The star we see today is a variable red giant. Until now, the surface of one of these stars has never before been imaged in detail.
By comparison, the Sun's photosphere contains about two million convective cells, with typical diameters of just 1500 kilometres. The vast size differences in the convective cells of these two stars can be explained in part by their varying surface gravities. π1 Gruis is just 1.5 times the mass of the Sun but much larger, resulting in a much lower surface gravity and just a few, extremely large, granules.
While stars more massive than eight solar masses end their lives in dramatic supernovae explosions, less massive stars like this one gradually expel their outer layers, resulting in beautiful planetary nebulae. Previous studies of π1 Gruis found a shell of material 0.9 light-years away from the central star, thought to have been ejected around 20 000 years ago. This relatively short period in a star's life lasts just a few tens of thousands of years – compared to the overall lifetime of several billion – and these observations reveal a new method for probing this fleeting red giant phase.
[20/10/2017] Cosmic Crashes Forging Gold: ULB and Max Planck Institute astrophysicists did predict it back in 2011!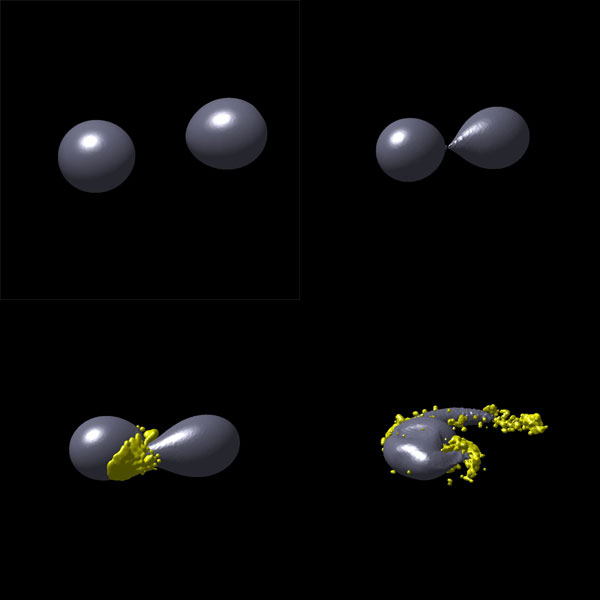 The observation, made public on October 16 2017, that neutron-star mergers emit gravitational waves and visible light with signatures of heavy elements validates a prediction made by scientists of the Max Planck Institute for Astrophysics (MPA) and of the Free University of Brussels (ULB) back in 2011. They had identified that ejected matter from neutron stars merging in a violent collision provides ideal conditions to produce the heaviest chemical elements such as lead or gold.
[20/09/2017] Ageing Star Blows Off Smoky Bubble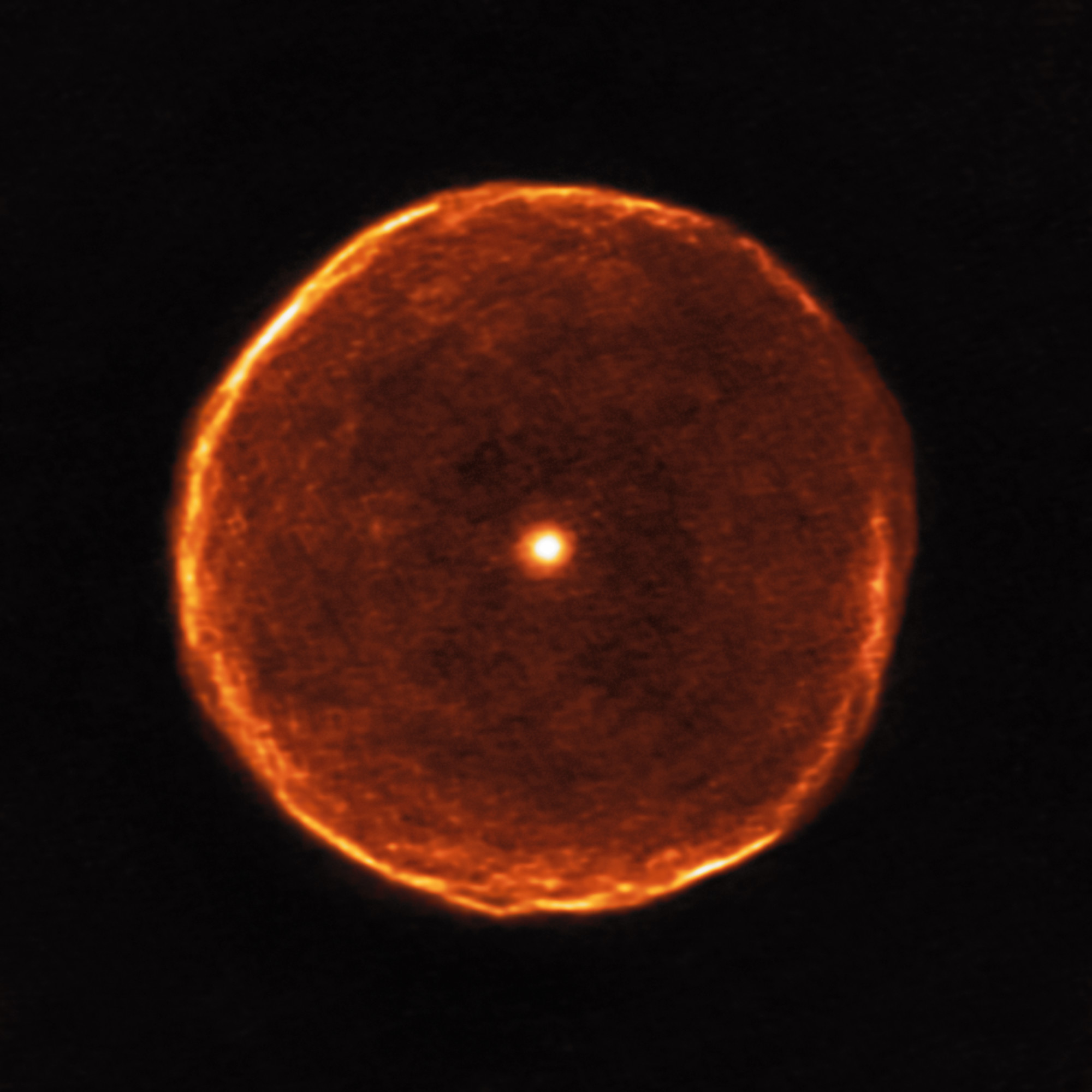 Astronomers have used the ALMA radio telescope array to capture a strikingly beautiful view of a delicate bubble of expelled material around the exotic red star U Antliae. These observations will help astronomers to better understand how stars evolve during the later stages of their life-cycles.
In the faint southern constellation of Antlia (The Air Pump) the careful observer with binoculars will spot a very red star, which varies slightly in brightness from week to week. This very unusual star is called U Antliae and new observations with the Atacama Large Millimeter/submillimeter Array (ALMA) are revealing a remarkably thin spherical shell around it.
This research was presented in a paper entitled "Rings and filaments. The remarkable detached CO shell of U Antliae", by F. Kerschbaum et al., to appear in the journal Astronomy & Astrophysics. The team includes C. Paladini (Université Libre de Bruxelles, Belgium).